We offer convalescent, respite and long term nursing care to females and males over 65 in a very friendly and social home.  All of our procedures and activities are Resident focussed and each of our team members understands that our top priority is the holistic care of our Residents.  Before admitting a new Resident, our Director of Nursing will meet the Resident and their family to understand their medical, social, spiritual and activity needs and to ensure that St. Ursula's is the best environment for the Resident.
We encourage family and friends to visit our home when they can, we don't have set visiting hours and we welcome visitors from morning to late evening.  We encourage our Residents to bring enough belongings from home to create a relaxing and familiar environment in their room, photos and pictures of loved ones are particularly welcome. All bedrooms have WiFi and televisions and we are happy to help set up IPads and other devices to use the Internet.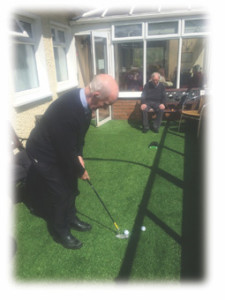 We have a nurse call system in place throughout the building with individual, easily accessible call buttons in each room, bathroom and communal area.
CCTV is in use in the communal areas of our home and we have registered with the Data Protection Commissioner.
Activities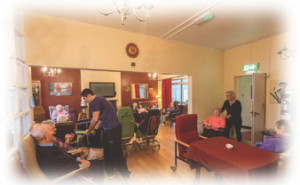 Activities are organised to suit all Resident's needs, whether on a one to one basis or as a group activity. Examples of our activities include; Siel Blue (exercise with physiotherapists), live music and entertainment by local musicians, Art Therapy, Massage, Acupuncture, Sonas (on an individual or group basis), Film nights and Barbecues.
Medication
We manage the ordering, receipt, dispensing, recording and disposal of medication for our Residents. All practices are detailed in our Medication Management Policy and are in compliance with An Bord Altranais guidelines for Nurses.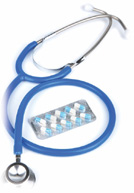 Medical Arrangements
As part of our pre-admission assessment to the home, you are obliged to disclose to the Nurse all prescribed and non-prescribed medication you are taking. We will also get a copy of your prescription from your own GP along with your medical history. We use the Doctor on call service to provide GP care outside of surgery hours.
Dining in St. Ursula's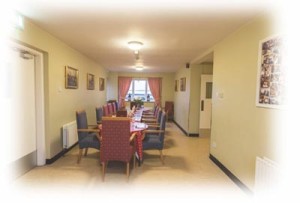 On admission, you will meet a member of our catering team so you can tell them your likes, dislikes and allergies. We will provide you with a personal nutrition plan which is maintained by our staff with input from the dietician as required. Our food is prepared daily in our kitchen using fresh, locally sourced ingredients with the personal tastes of each of our Residents being considered. We serve meals in our dining room, our communal living room, in the Resident's bedroom and elsewhere at our Residents request and you may choose when you prefer to eat. Refreshments are available at any time. Fresh, chilled drinking water is available at all times in the sitting room.
Worship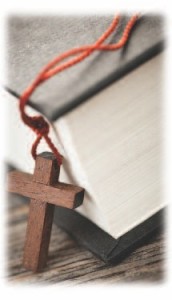 Residents are welcome to join in the weekly celebration of mass in St. Ursula's or may attend external religious services or ceremonies to suit their denominations or we can arrange visits by your chosen clergy member. Our Residents lead the Rosary each evening and The Legion of Mary visit weekly to provide spiritual guidance and assistance to those who wish to avail of it.
Additional Support
We provide access to physiotherapy, speech and language therapy, dietitian, chiropodist and optician among others. Occupational therapy and dental services are available by appointment and your nurse will help you to find one locally.
Laundry
A personal laundry service is provided daily. Our Resident's clothing must be labelled before admission to protect Resident's dignity by preventing clothing from being misplaced.